Talk to Strangers: 15+ Omegle Alternatives For 2021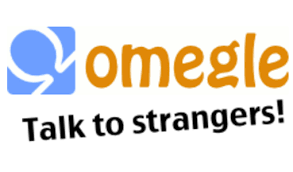 In this day and age where people prefer video calls over text messages, platforms like Omegle are a blessing for everyone. These websites allow users to spend their leisure time meeting strangers and talking to them online via chat rooms. If you are someone who is fond of company, these chat services are a way to go. Today, there are plenty of platforms like Omegle that have entered the web scene you can use to pick up a conversation with a stranger. Here are our top picks in Omegle best alternatives: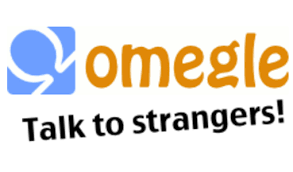 Omegle Alternative Sites Comparison (With Launch Year, Price, and Ratings)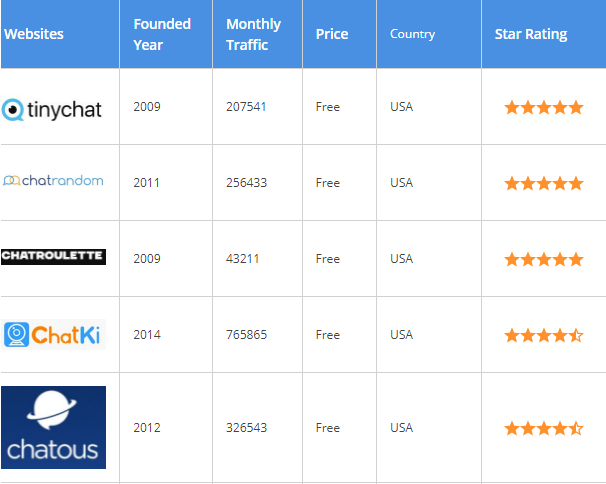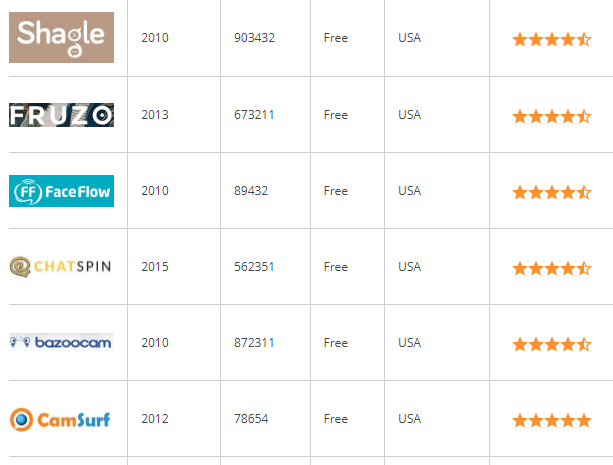 Top Omegle Alternative: Random Chat Websites & Apps
1. Chatrandom
With Chatrandom, connecting with like-minded people becomes a breeze. This is one of the best alternatives to Omegle which works just like social platforms like Facebook with random chat options and filters. The platform's matchmaking algorithm allows you to connect with people across the globe and have a casual chit-chat with them. You can use the filter option to explore people from specific locations hassle-free. Note that Chatrandom is only reserved for 18+ adults so kids cannot use it.
Chatroulette
Founded in 2009 by a Russian guy, Chatroulette is another Omegle-like website to consider. At one point, both the websites were competitors as they were launched during the same period. Well, just like most sites, Chatroulette lets users meet and greet people from all corners of the world. You can connect with them via microphones, videos, and emails. The platform also has a feature to block those who exploit you with sexual content.
TinyChat
If there had to be one site that is safe and reliable, it has to be TinyChat. With millions of users, it enables users to interact with people with the same interests through unlimited messages, video calls, audio calls, and more. The best feature of this platform is it has thousands of chat rooms you can access without downloading anything. What's more? You can also host your own chat room in case you don't like to be a part of public chat rooms. Also, you won't find many fake people or scammers here. Simply access the well-structured TinyChat website and use it for free without any registration.
Shagle
Shagle is an innovative free webcam video chat site that pairs you with random people for social communication. It is available in six languages including English, French, Italian, German, Spanish, and Portuguese. What's groundbreaking about this platform is its membership option that users can use to access premium features such as sending virtual gifts. You can also enjoy special privileges like choosing from a burgeoning range of virtual gifts and in-depth filtering by creating an account. The platform has an android friendly layout to allow for hassle-free use on mobile devices.
Chathub
With your 1500000 monthly users, Chathub has managed to earn a decent spot in the list of top random video chat sites. The site is hugely popular, especially in the USA, India, UK, and Germany. Although Chathub is apt for every gender, it is particularly great for female users. Reason – it has face and audio filters that females love trying. The site pairs you with up to 4 users from whom you can decide who you would like to connect. The best part – you can pick your chat partners on the basis of country and gender preferences.
Emerald Chat
This site is reminiscent of Shagle more than Omegle. Rendered with a modern and intuitive interface, Emerald Chat allows hassle-free connection with random people. The app is not frustrating like many other sites where users have to deal with pop-up messages of bots. This is what makes it a one-of-a-kind webcam chat site. The platform believes in user satisfaction and has a 24/7 email customer support system that handles all your queries. In addition to this, the website has an automated matching algorithm that pairs you with random people at the beginning. Later the system does matching based on the user's interests.
Chatki
Chatkiis is powered by ChatRandom so if you have got a subscription for the latter, you can use premium features for the former too. Well, Chatki has webcam video chatting so you can interact with people worldwide. Here, you can also see online users and connect with them without any ado. Chatki is simple and secure and possesses a user-friendly interface. You can also use the block feature to forego unwanted people.
Chatville
From initially a Facebook app to an independent random video chat service, Chatville has come a long way. The platform has several chatrooms with users you can choose from on the basis of gender. Apart from joining other chat rooms, you can also host your own chat room and invite people with diversified interests. ChatVille's website can be accessed on Android and iOS devices as well.
Ome.TV
Build new friendships with cosmopolitan people with Ome.TV – a decent webcam and audio chat service. It is one of the most convenient and reliable ways to connect with people online and pick up random conversations without pop-ups. As the talk will be anonymous here, you have the choice of whether to share your personal information or not. This makes the service safe and a great medium to develop trustworthy relationships. The service is available for both iOS and Android users.
Talkinger
Talkinger is a free random chatting website that does not require registration. You can use the site to video call new people in your city or those residing in another country. So, the site removes language barriers just like other random chatting websites. The main highlight of Talkinger is that you can switch on/switch off your webcam or microphone.
iMeetzu
Imeetzu gives you the feeling of a social network where you can connect with random people instantly. The site can also be considered as a part dating platform. Unlike Omegle, Imeetzu is more advanced and offers plenty of chat rooms for users. Additionally, you can share documents and pictures via this medium ad also conduct live broadcasts and group chats. Privacy isn't an issue as you have full control over your personal details. If you are a gregarious person who loves making friends irrespective of caste, creed, or culture, Imeetzu is the one for you.
Paltalk
With over 3 million users worldwide, Paltalk is also an attention-grabbing random chat service. It resembles Facebook in many ways so you can use it to find friends, customize your search, and chat with strangers without any constraints. Here, you will find both text and webcam chat features and 5,000+ public chat rooms for you to join. In the public chatrooms, you can share SoundCloud clips and YouTube videos others can enjoy. This platform is compatible with desktop computers, PCs, Android smartphones, and iOS devices. Signing up is also easy and requires you to fill only a few textboxes.
Camsurf
If you wouldn't mind dating a stranger, take heart in Camsurf without any doubt. You can make use of this random webcam chat service and face-to-face chat with people of the same likings. The site is secure and doesn't need registration of any kind. Filters available here enable you to attract people of the choicest gender or country. The best part – it is free to access.
Well, Camsurf has a private mode so you can hide your personal stuff from strangers. While registering, you aren't required to fill up any personal detail so the app is trustworthy in every way. Just make sure not to use abusive language on this platform as an infringement of the site's privacy rules will result in termination of your account.
HIYAK
With HIYAK, you can consolidate with new people by talking to them and building relationships with them. Just like most platforms, the service provides live chat and video chat options. It has the best filter system so you can meet anyone based on their location, interest, age, gender, etc. No personal details are required to access HIYAK on iOS or Android devices. Plus, it's free of cost. Anyone violating the security norms of the platform is banned so make sure not to share offensive or abusive content here.
Faceflow
FaceFlow is like a cousin of the chatting platform Skype with the aim of bringing people from different corners of the world together. You can access this platform to talk to your friends and even with those whose photos or videos capture your attention. FaceFlow is browser-based and has a simple interface so it is perfect for newbies. Overall, this online chat website is great for those who want to spend their leisure time making friends online easily and without paying a single penny.
Bazoocam
Bazoocam offers an incredible video chatting experience and enables you to connect with real people. The site is free of scammers and fake people and hence is reliable and authentic. Besides the chatting feature, the platform has multiple games for users so entertainment is 100% guaranteed here. People from different parts of the world can join you in your gameplay to take your gaming experience up a notch. Then French service comes with new updates regularly to allow for an intuitive user experience. So want to instantly communicate with strangers and enjoy 24/7 without any pause? Then resort to Bazoocam!
Chatspin
This multilingual video chatting platform gives users the flexibility to connect with those belonging to a different culture. The site supports over 10 different languages spoken worldwide. Due to this reason, Chatspin has high traffic and both guys and girls love using it. Visit this platform anytime to meet others and text or video chat with them.
Read More; Losmovies Proxy/Mirror Sites 2021
How to Find Out the Best Random Chatting Site?
In this day and age, online chatting websites are thick on the ground. While some sites have similar interfaces and features, others are innovative. But the common goal of these platforms is to connect people with others so that they can find a friend, soulmate, or partner in them. Follow these considerations to find the best random chatting site on the web:
The chat online site should be free and must connect you with people without having you input your credit card details.
Look for a website that allows meet-ups with people present worldwide.
It's wise to go through the terms and conditions, security information, and privacy policy of a website before accessing it.
Opt for a website that enables you to connect via audio, messages, and video call.
There should be filters so you can narrow your search and find the choicest people easily.
Test a few websites for some days before committing to a particular site.
How to Find Someone on Omegle?
If you fancy Omegle and want to stick to this video chatting platform, go ahead. But before you do that, let's tell you how to meet someone here. Create your profile and complete it by adding your interests, location, etc. The platform will match your profile with people who share similar information. After the site connects you with someone, you can instantly chat with them. 
Is Omegle Safe?
The safety of a random video chatting platform depends on the platform as well as its users. Talking about Omegle, the website is safe until you do not share your personal details with strangers. So, once you are engaged in a conversation with someone, do not reveal details such as your location, university name, etc. to stay on the safe side.
Major Features of Omegle Users Love
All chatting websites and apps have their own unique features and Omegle is no exception. Some of the best features of the platform are discussed below:
Direct Access – Users can access the website without creating an account or filling up personal details.
Hassle-Free Navigation – The user interface of the platform is simple and intuitive at the same time.
Advanced Search Algorithm – Users can search people worldwide easily by using tags such as pets, food, sports, fashion, and so on. You can also find people in your location easily.
Spy Mode – This feature allows users to ask questions from other users without interacting with them.
Multiple Chat Options – Live text chatting and video calling are two chat features available on this platform.
This is basic information about Omegle along with a list of alternative sites for the platform. If you wish to connect with random people irrespective of cultural boundaries, rely on these websites. Select your favourite from any of these sites and get the ball rolling!  
Read More; Top 25 Alternatives to CouchTuner in 2021